Apple Analysts Are Ignoring Currency Impact
It seems like the guys on the buy side and the guys on the sell side just can't agree on Apple. It has become a true battleground stock as everyone is wrestling with a market sell-off, broken growth, and valuation multiple contraction. We know this company can lop off a huge chunk of its valuation in a relatively short period of time, and in the prior S-cycle things got pretty ugly with every pundit jumping on the bandwagon perhaps months or quarters later. Of course, I'm trying to be consistent here because I notice that a lot of the sell side models aren't including the 6 to 8 points in F/X impact, and Apple management mentioned that they can't hedge the currency markets as effectively due to the cost of hedges and roll-off of pre-existing hedges.
The guys in the AAPL accounting department are kicking themselves as movement in currencies is unprecedented as every central bank is taking stabs at exporting deflation. It's like watching hot potatoes with trillions of dollars on the line as every central banker is coming up with better or more unique reasons for adding zeros to their currency base. We all know that Apple's exposure to China will exceed 20% this year, and the Chinese government loves to rely on currency levers, so that combination isn't sounding too good for Apple as we have witnessed the Yuan blast off these past couple weeks.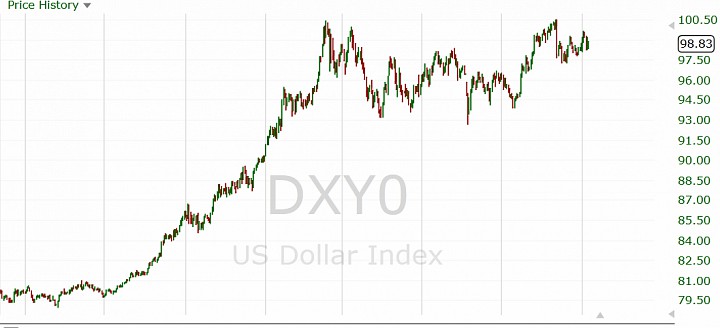 Source: Freestockcharts
Some analysts are even signaling 7.00 on the Dollar/Yuan pair, which translates into tons of dollar strength going into this year. I don't anticipate Apple to recoup sales with repricing, because a lot of these markets are extremely sensitive to price adjustments. The elasticity of high-end consumer electronics is 3.0+, and if Apple is really dumb enough to initiate full price recapture, it's extremely obvious shipments will struggle. Sure, there are many Apple loyalists, but if they had to walk back into the store a week later to find Apple iPhone prices 5% to 10% more expensive, they'll either buy down the stack or buy a completely different brand.
Remember Sony? Yeah, I know tons of people who love Sony products, but what happened when Japan went through two decades of deflation/stagflation? We walked into Wal-Mart knowing that a Sony TV was going to cost more than every other brand. We also knew that the other brands offered parity quality, so many switched to Samsung, LG and Vizio. Sony lost market share in consumer electronics because it attempted pricing recapture, and speculated that its brand would overcompensate. Now Samsung is the world's largest panel maker and they also have 3.7 times Sony's market share according to IHS.
So, Apple isn't going to sell more handsets by pricing them up, and if they maintain pricing they still have to report F/X impact and margin compression. The theme to watch out for is both F/X and iPhone shipments. Those are the two primary negative revenue drivers in my own financial model.