Facebook Is Worth $149 Per Share and Here's Why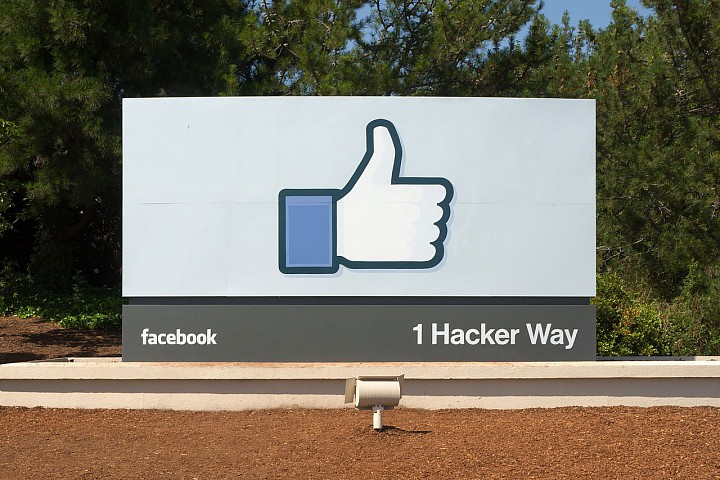 Facebook flew higher going into the after hour session, as it is now up by 12%. Personally, I view Facebook as one of the bright spots among high momentum growth stocks. The social platform blew past consensus estimates, which (believe me) was broadly anticipated among the analyst consensus. The company seems relatively well positioned as it continues to launch new ad-formats and looks for incremental monetization opportunities with regards to its adjacent mobile chat apps (Facebook messenger and WhatsApp).
The company reported $5.841 billion in revenue and non-GAAP EPS of $.79 for the quarter. This compared to consensus estimates of $5.37 billion and $.68 non-GAAP EPS. The beat to top line results came as a result of accelerating ARPU trends as Facebook continued its roll out of ads on Instagram, which translated into 25.5% sequential ARPU growth, and 32.7% year-over-year ARPU growth. 
The MAU figure grew by 2.97% sequentially, and 14.2% year-over-year, which if you multiply the growth rate of users by the ARPU growth rate, you arrive at a close enough approximation to annualized revenue growth (51.2% year-over-year). The revenue grew by 51.6% year-over-year. The expense ratio drastically improved with non-GAAP operating margin at 60%, which improved sequentially by 5 percentage points from prior quarter. The non-GAAP EPS grew by 46.2% year-over-year, which translated into the massive beat for the current quarter, which was well above my own expectations and the expectations of analysts on the sell side as well.
Outlook was pretty upbeat despite weak F/X trends as the company anticipates similar revenue growth trends from FY'15. Facebook mentions that 2016 will be another investment year, with investment prioritized in some of its nascent areas. The management team offered guidance of 45% to 55% increase in non-GAAP expenses, CAPEX of $4 to $4.5 billion and non-GAAP tax rates in the low 30s.
Ad load increased in Q4'15, and given the outlook it's likely that ad load will increase incrementally depending on the quality of the user experience. Facebook didn't break out the figures for Instagram quite yet, however the incremental advertising dollars from Instagram added to the meaningful lift to ARPU in the 4th quarter. Hence, it seems fairly probable that Facebook will sustain its ARPU growth trends as it has opened up a lot more of its non-Facebook ad inventory.
Furthermore, some interesting commentary was shared on the conference call, as Mark alluded to monetization of WhatsApp and Facebook Messenger. While they're not in any hurry to monetize these two platforms until they develop a high-quality user experience that can withstand monetization, it's worth noting that Facebook will eventually implement some way of monetizing both apps. Furthermore, the conversation internally centers on providing enough content for both platforms before mixing in ads or some other business model. In other words, Facebook will eventually turn on the revenue spigot assuming they build up to that point, which may take a couple years. It's not a deal-breaker, as it will provide some meaningful lift to sales as we progress through the maturation phase of Facebook's core app, which provides upside to long term financial models.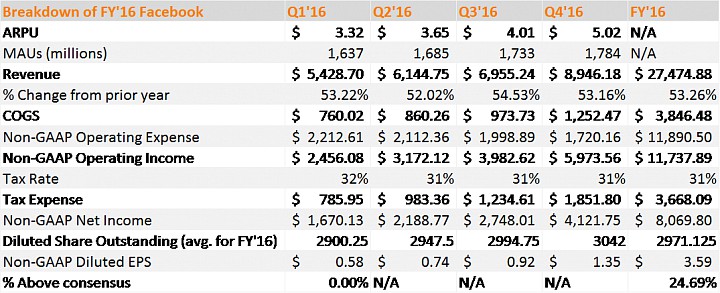 Source: Alex Cho
So, after working through the outlook figures, I have created a financial model to reflect the acceleration of profitability as we progress through the year. This is mostly driven by the expense guidance, upbeat outlook on revenue trends, and falling tax rates. I'm anticipating the sell side to come in a little more conservative than me, which I will confirm tomorrow as I receive the reports.
Nonetheless, I'm backing my high conviction buy recommendation and I'm at the high-end of the range, as the current highest estimate among sell-side analysts is $155. I'm anticipating the average sell side price target to increase from $125 to $135-$140 over the next couple days.