Apple Software/Service Revenue Forecast

In a recent report release by UBS there seems to be further conviction in Apple's software business. For the most part, much of my negativity has more to do with hardware and less to do with software. Furthermore, given the anemic adoption of Apple Pay and Apple Music, it's become increasingly difficult for Apple to sustain its culture of hit products and services. But, given enough time those two services could become needle movers, or Apple could just release more services down the road to reach a higher rate of growth.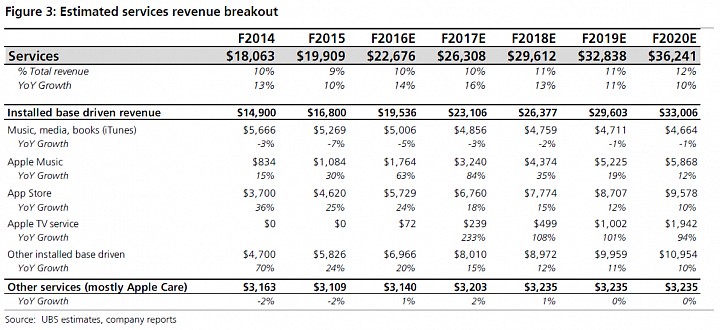 Source: UBS
However, UBS analyst Steven Milunovich believes the company will contribute 20% of the company's gross profits by the year 2020 due to the high gross margins. I'm not sure how much that will help unless if Apple can release more hardware to sell to the masses. The company's operating off of a $216 billion revenue base this year (assuming a 7% decline to revenue), and by 2020 the company's revenue pool should get a lot bigger than just $300 billion (I sure like to hope so).
Even so, UBS analyst Steven Milunovich anticipates $298 billion in revenue by FY'2020 of which Software contribute to 20% of the company's gross profits. 
Let's just pray Apple does more than $300 billion by FY'2020, or Houston we have a problem because the stock is not going anywhere.