Morgan Stanley Another Victim Of The Bank Sell Off This Quarter
Needless to say Morgan Stanley reported a fairly solid quarter both in terms of sales and earnings. The company reported EPS of $0.39, which was better than the consensus estimate for the quarter at $0.33, which was mostly due to strength in its trading segment, improvement to asset management revenues, and healthier margins. Of course, the response to great earnings reports from the financial sector has been to sell. I guess investors are foaming at the mouth with various predictions of doom and gloom, which is typical in major market corrections. 
I rely heavily on bank earnings to determine the strength of lending and credit. After all, consumer credit trends are more indicative of cyclical weakness on macro then commodity pricing trends as the issue with oil prices is due to geopolitical factors and improvement to vehicle MPGs. Commodity prices are moving higher due to dollar strength against a broad basket of currencies.
So… I'm not jumping up and down over recession predictions quite yet.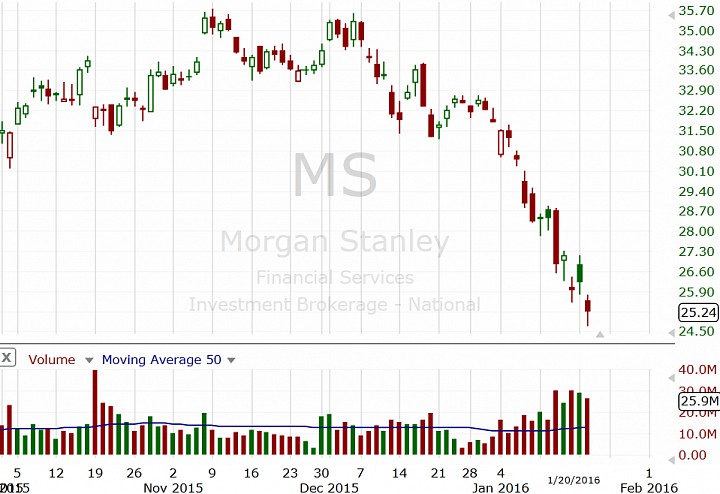 Source: Freestockcharts
That being the case, the strongest argument for selling banks is due to the exposure to oil, gas and commodities, which Morgan Stanley wasn't really any exception on this specific front. The company reported an 8.1% decline in fixed income and commodities trading. I mean who could blame them right? The company also announced a $466 million funding value adjustment when pertaining to that segment, which impacted earnings negatively by $.18 in Q4'15. Nonetheless analysts are somewhat upbeat on the company. I anticipate investment banking to recover going into FY'16 due to heightened M&A volume and stabilization in equity prices (creating a path to IPO underwriting). The heightened M&A activity is being driven by higher interest rates as the remaining companies looking for accretive acquisitions are acting quickly before corporate bond issuances become more expensive.
Credit Suisse came out with a report yesterday and their final verdict wasn't exactly rosy:
Bottom line: expectations were low; results were OK. With respect to the stock, it's too early in our view to get materially more constructive. The focus now turns back to the (ugly) macro backdrop. We revise our estimates and reduce our target price to $33 (old: $37), implying shares can trade at 0.9x forecast 2016 BV, in sync with 8-9% expected ROE.
Assuming the stock does in fact reach $33, there's 30% upside from current levels. Of course, I'm a little hesitant to jump on board Credit Suisse's prediction. The revision lower does capture some of the weakness in commodity trading and debt value adjustments, but PTs among bank analysts have been pretty aggressive maybe too aggressive. 
Banks will recover when markets recover, as that will impact equity underwriting the most. To conclude I'm still a fan of the stock, and I find banks in general heavily undervalued (obviously). So investors are getting a pretty good bargain when buying at these lower levels.