Qualcomm: Downside Limited But Stock Will Likely Stay Below $50
Qualcomm remains an out of favor name and investors continue to see every pop-up as an opportunity to sell the stock. At this point, we can all acknowledge that Qualcomm trades at an attractive valuation, but there's still downside risk to a bullish investment thesis, which is inclusive of:
Slowing smartphone shipment growth with ASP erosion highly probable.
Reduction in incremental silicon opportunities for low-end handsets with heaps of competition from alternative vendors.
QTL royalties in question due to shifts in royalty recognition from per handset to per component based on FRAND (fair, reasonable and non-discriminatory) licensing. I anticipate the royalty rate to decline continuously over the next five-years, with a raft of patent expirations in 2022 the primary buzz kill for long-term un-levered DCF models.
I anticipate competition to heat up across the product stack and features to lag behind Samsung and Apple.
The valuation will remain depressed over the next three-years even with some recovery in handset sale recognition among Chinese OEMs.
In light of these factors analysts are starting to lower PTs even further. Of course, the most notable research came from JPMorgan, as they highlighted the weaknesses in the business model in excruciating detail over the course of 2015.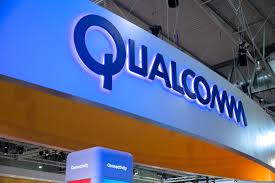 RBC released a note this morning lowering their price target, here were some of the highlights:
Our expectations vs. consensus. For F1Q16, we expect top-line of $5.1B (-28% YoY), below the Street estimate of $5.7B and the $5.2B-$6.0B guide. On EPS, our estimate of $0.89 is a penny above the Street, and a steep decline from last year's $1.34. We estimate 225M MSM shipments for Qualcomm in F1Q16, 185M in F2Q16, and 795M (-15% YoY) for FY16.
The analyst is one of the most bearish among the consensus, but he still believes the multiple will expand according to his financial model. Usually whenever growth deteriorates a stock's valuation also rapidly collapses as well. In other words, the analyst anticipates 18% year-over-year decline in EPS ($3.84) going into FY'16, but anticipates the broader market to materially re-price the stock a lot higher. The analyst anticipates the stock to trade at $60 by year end, but when inputting his EPS assertion into my own financial model, the valuation looks more reasonable at $44.58. 
Yeah, it seems like I magically pick numbers, but this is my own proprietary valuation technique that I've used for quite a while now. Of course, I'm going to come up with my own revenue/earnings estimates in future articles, but it's worth mentioning that the valuation could drop a little further from today's pricing levels of $46.93. In other words, there's not a whole lot of downside left to the share price, and even if I could model a more aggressive scenario, I doubt I could come up with a scenario that's more aggressive than an 18% EPS decline.
I'm not saying my PT is $46.93. I'm just saying that based on RBC's estimate on EPS, I would walk away with a much lower PT. In other words, I'm not expecting much upside in the name, and I believe that it will struggle to break above $50 for the balance of the year.