Twitter Now Attractive: We Have A Bottom Picking Opportunity
Start shopping for the bottom on Twitter, yes I know it's tough to time bottoms in some of these media names, but there's no denying the relatively attractive growth rates and the strategic shift in product strategy coming out of a CEO transition. The commentary among sell side analysts with the exception of few, have been broadly pessimistic.
So, buy when everyone else is fearful!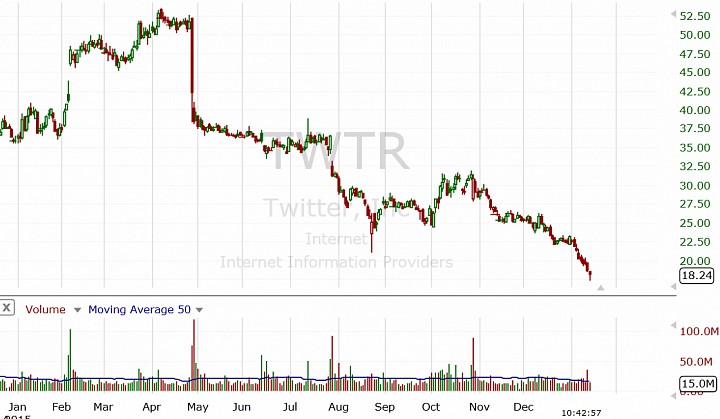 Source: Freestockcharts
Nonetheless I take on the view that TWTR will become a recovery story exiting out of 2016 because the company's ad-revenue model still seems intact despite the hazy visibility on users. The website hasn't transitioned into faddish territory, so the user base remains strong.
I'm anticipating the shift in Twitter character limits to be a key driver behind engagement growth coming out of 1H'16, which will help to mitigate concerns over spam as more relevant content continues to surface in the newsfeeds of TWTR users. I also anticipate that ad load will improve modestly with pricing improvement on ads to be the primary theme coming out of 2016. Of course, modeling sales growth is difficult given the choppy nature of ad inventory and pricing dynamics, but with Facebook increasing ad pricing, the environment is heavily supportive of higher CPMs despite questionable conversion metrics for some of the campaigns that run through Twitter.
I also anticipate the MAUs figure to hit a key inflection point following 2H'16, which means yes – user growth will return in full force. I anticipate the effective ad-inventory to increase as a result of higher engagement among TWTR users who produce longer form content. The stock price doesn't reflect this, but some contrarian calls are still being made by the sell side, which I will cite.
Ross Sandler at Deutsche Bank released a report yesterday reiterating his positive outlook on the stock:
Twitter sits atop the "highly-speculative contrarian long idea" list for 2016 in consumer internet. Same as last year, the only thing that could potentially drive a re-rating & a change in the negative narrative is re-accelerating MAU growth, the timing of which seems to be nearly impossible to predict. However, at 10x our below-cons 2017 EBITDA, we think valuation reflects the well-documented concerns, even if we get a guide-below for FY16 which is largely expected at this point. We patiently wait to see what new products Jack Dorsey can ship to close the gap between core DAUs & the 1B mainstream non-Twitter users.
Now obviously Ross is optimistic when reiterating a $40 PT, but nonetheless I agree with his thought process on new products. However, the new ad products won't be the big needle mover, but rather the improvement to engagement from increasing tweet length. I anticipate that this will enhance ad campaigns and improve CTRs. As such, the sleeper catalyst wasn't really cited in his report, which should catch analysts by surprise assuming my analysis on organic growth in terms of engagement rings true.
I'll update my analysis with a valuation estimate in future articles. For now, keep an open mind to Twitter because the risk to reward has gotten a lot better at these lower levels.