Tesla Model 3 Driving Investors Higher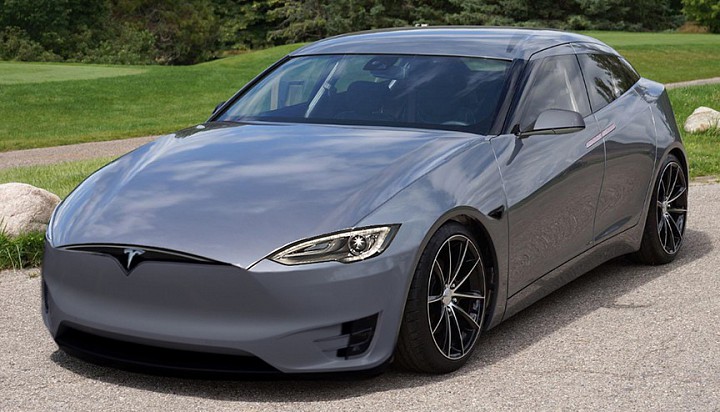 Tesla Motors just unveiled its Model 3 on March 31st 2016. The company is making significant progress on its mid-tier, or entry-level luxury car as it has the makings of being one of the biggest product releases in 2017. While, it's been a while since I have covered Tesla Motors (you'd have to go back to the days I wrote for The Motley Fool), I'm putting this company back into my focus coverage, because I believe there's enough near-term catalysts to sales/earnings to make a strong fundamental case despite the inflated sales multiple and lack of mature balance sheet fundamentals.
Yes, the company trades on speculative projections. But then again, every company is valued on some future perception of value. While a simple extrapolation is ample enough for most companies, I believe further discretion and imagination would need to be applied before arriving at a fair/reasonable intrinsic estimate on TSLA.
Notwithstanding, I'm going to focus squarely on the Tesla Model 3 in this specific article and will follow-up with my assigned valuation and financial model in a future article.
Coming out of the unveil, I was pretty impressed with the product, and pre-sale figures that Elon Musk presented (110,000 at the product keynote). However, following the event, Tesla pre-sold 180,000 cars in its first 24-hour debut, according to Elon's Twitter account. The figure swelled quite considerably, and I anticipate that by the end of the year, pre-sales will likely exceed 500,000 and 1,000,000 seems very reasonable.
Once bearish now bullish, the folks on the street can't make up their mind, as evidenced by the move from $130 to $265. Caution is now being thrown to the wind. Words like fate, seizing destiny or even better yet, "que sera sera" could only describe the first "successful" auto start-up in decades. The sheer adoration of the crowd at the Model 3 unveiling hasn't been witnessed since the launch of the original iPhone at Apple's keynote from 2007. Tesla's loyal following cements its competitive position despite heightened competition. Auto execs will scramble to develop a comparable vehicle, but none will succeed at capturing the hearts of consumers the way Tesla has.
Customer loyalty is the toughest form of business to replicate. You can copy successful ideas, stuff billions into ad campaigns and even develop marginally better products. But rarely can you ever buy love with money. Just ask any billionaire who has filed for divorce.
Going into the announcement, the analysts at Credit Suisse set the tone for pre-sale estimates:
In terms of numbers, we expect 100,000+ in the first several weeks (we'll get a sense of reservation #'s through online enthusiast forums). There are two key population pools, in our view: 1) The ~107k current Model S / X owners. Very few owners we've spoken to will NOT place a Model 3 reservation. 2) Those who have test-driven Model S, but can't afford it. Of the consumers who test drive Model S, we estimate that only about 15% actually buy the car (typical auto dealer conversion rate is ~50%).
Clearly, Tesla blew past the expectations of some of the most astute analysts on Wall Street. Heck, I was anticipating a slower ramp-up to sales than what Tesla pre-announced at the Keynote. Every once in a while we witness blow outs, but very rarely do you see companies sailing past the moon. Obviously, Tesla's 180,000 in 24-hours is great, but what happened only days later is even better...

The momentum has continued s as the company announced 276k in pre-sales on April 3rd. The stock has skyrocketed in response to ramping pre-sales despite the pre-announcement of Model X/S shipments below guidance. Investors are ignoring the bad news. They're buying the stock on Tesla Model 3 sentiment alone.
While, I haven't arrived at a tangible valuation yet, momentum will take the stock to new all-time highs. Furthermore, analysts on the sell side are moving price estimates higher. The street is chasing Tesla Motors, and the media can't run out of positive things to say. When you take into consideration the high likelihood of Model 3 sales above 1 million in the first year, you can't help but want to buy the stock.
In a note released on April 4th, Credit Suisse revised their estimates higher:
We're raising our price target to $280 from $240 and maintain our Outperform rating, on increased confidence in long-term demand. Continued Model S order growth and spectacular interest in Model 3 support our view that demand will continue to outpace production through the forecast period. This puts Tesla in an enviable position, but significant growth in the shares from here will likely require evidence of earnings improvement and cash burn reduction.
Clearly, cash burn and profits will remain a contentious issue among the investor base. I've seen investment periods go on for decades in the case of certain companies (Amazon). While I agree with Credit Suisse on their optimism, I would still recommend the company even if the cost structure were to worsen over the next couple years.
Investors should be aware of some of these risks when buying TSLA. I find it a little farfetched to anticipate positive net operating margin on a GAAP basis over the next three years. Even if Model X and Model S were to ramp at a fairly healthy rate, the incremental CAPEX from the upcoming Model 3 diminishes the likelihood of positive operating metrics. 
Even so, I'm initiating my coverage with a buy recommendation.