Wal-Mart Crushes Dollar General and Family Dollar on Pricing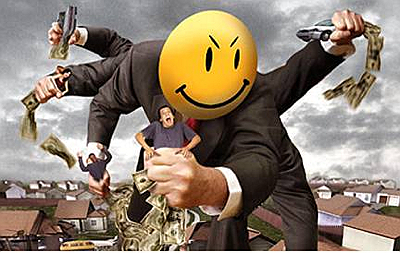 Okay, so in a study where Deutsche Bank went all out in a comparison of pricing between Wal-Mart and discount chains like Family Dollar and Dollar General, the analysis overwhelmingly concludes that WMT is cheaper than its rivals. Of course, the degree to which is marginal, but enough to argue that WMT is still somewhat appealing on the pricing front after Deutsche Bank made comparisons in pricing across consumer products like Febreze, Doritos, Allegra, and Bounty Paper Towels. There was a much larger and expansive list, but quite frankly I can't bring myself to talk about the pricing on any more of a granular level.
Basically, the analysts over at Deutsche Bank channel checked, and the indications are more or less positive for Wal-Mart investors.
Here's a brief excerpt from the Deutsche Bank report:
Specifically, our Dollar General basket was 6.3% more expensive than Walmart, on average. Said another way, Dollar General's basket of $129.58, on average, was $7.65 more expensive than Walmart's basket. This compares to our study conducted on 9/29/15 where we found Dollar General's basket to be 4.8% more expensive than Walmart, on average. Dollar General's prices increased 1.1%, on average, from our previous study. Family Dollar once again had the highest prices in both clusters with prices 11.4% higher than Walmart and 4.8% higher than Dollar General, on average.
With Wal-Mart competing more aggressively for grocery share, it's nice to know that it's more price competitive than discount retailers. Both Family Dollar and Dollar General occupy more of a niche, and are thought of as a low-priced convenient alternative for buying general merchandise and snacks (the type of stuff you'd find at a convenience store/gas station). So, the more direct competitive comparison of Family Dollar and Dollar General would be convenience chains like Walgreens and CVS, but with how undifferentiated the generic retailers are, I generally prefer Wal-Mart and Costco over concepts like CVS, Walgreens, Family Dollar, Dollar General. In other words, it's hard to explain the appeal of the two smaller franchises, and why Wal-Mart isn't gaining meaningful share despite the disparity in pricing.
Perhaps, habits are hard to break and when you hear the "dollar" concept, it's more branding than actual discounting that's going on.
Chances are you'd find a better discount at Wal-Mart and Costco, but with consumers pre-conditioned to shop at dollar discount stores, they end up spending more money! This is precisely the opposite motivation for people who want to save a buck or two. Furthermore, both DG and FDO sell in smaller units, so they can fit within the "dollar" pricing. In other words, on a comparative basis, they charge more, but to fool consumers into discounting they sell in smaller quantities and limit pricing below $5 to sustain the "cheap retail" concept.
However, I find risks to this strategy, and generally speaking, I'm a bigger fan of Wal-Mart. It simply has a phenomenal track record of wrecking small businesses in rural and urban communities. While I'm somewhat empathetic towards small businesses, I'm a bigger believer in creative destruction caused by capitalism! I love companies that destroy competitors, the more they destroy competing franchises the more a concept is "proven", and thus sustainable dividends, buybacks and revenue growth can be built into a financial model.
So, with Wal-Mart's overwhelming success I honestly think investors are playing with fire when owning either DG or FDO. It's only a matter of time before retail sales per square feet shrivel and unit economics can no longer be maintained for some of these smaller franchises. Maybe, I'm wrong, but I'd shrivel at the thought of owning a company that could get pile driven by America's most ruthless smiley face. Every time a Wal-Mart opens up, countless stores have shut their doors. So, what's stopping Family Dollar and Dollar General from following the same fate, especially when they're more expensive on generic consumer products?
While branding, product positioning, and convenience may have saved the two franchises eventually those competitive advantages may prove insufficient given enough time.