Hewlett Packard Enterprise A Bigger Winner if Buybacks Accelerate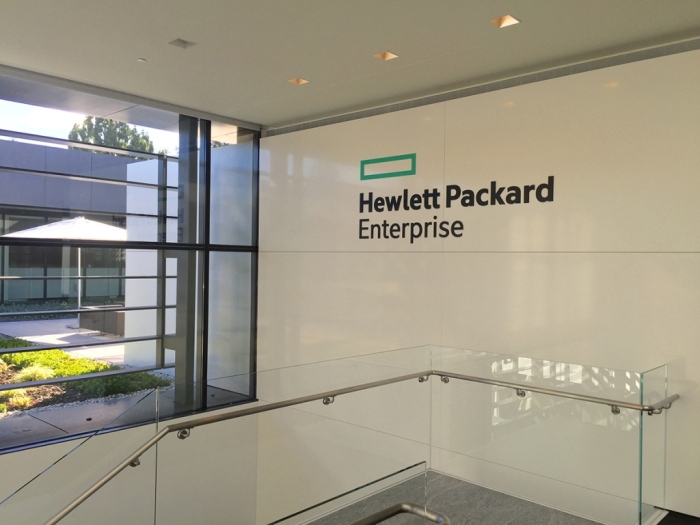 In a report released last week, RBC Capital makes some interesting points on Hewlett Packard Enterprise by alluding to an accelerated capital return program. However, a lot of the upside from investing into HPE has already been made, and it's well-established that its business will remain low-growth until there's a sizable improvement in its pricing that drives more adoption from hyper scale vendors for its manufacturing services.
Here's what RBC Capital Markets stated in their report:
HPE is well-positioned from a capital structure standpoint and could add to their cash balance following sales of 1) H3C (CSRC approval received today, $2.3B), 2) TippingPoint ($300M), and 3) stake in Mphasis (Indian IT Services, ~$1.0B). We estimate combination of these sales and FCF generation in FY16 (~$2.1B) will provide HPE with $5.5B+ in cash on top of their current net cash balance of $2.7B which could explain HPE's comfort around increasing FY16 shareholder returns to 100% of FCF (up from 50%).
RBC also raised their price target from $15 to $18, and that share buybacks could amount to an extra $.17 in EPS. In the end, I think the opportunity to return extra capital via divestitures is built into the stock price. However, a more optimistic scenario could play out, which would put investors in a better position to generate returns.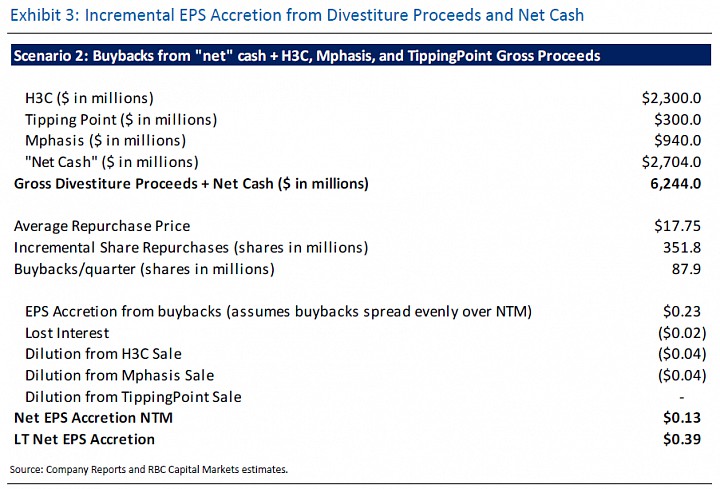 Source: RBC Capital Markets
In the event of normalized FCF, additional divestitures and return of remaining cash HPE can orchestrate a buyback of $6.224 billion thus reducing the float by 351.8 million shares. The net impact on EPS assuming the weighted average repurchase price and target price by RBC is accurate, could be $.13, but over the duration of the buyback program will translate into $.39 of EPS accretion. Now, given the recent momentum in valuation, I don't believe the stock will trade at $17.75 when averaged over the duration of the buyback program. However, I believe the impact on investor sentiment will be positively perceived and will also drive a higher earning/sales multiple on the stock.
The core business still struggles with sustaining healthy growth rates however. So while these efforts are positive, it's worth noting that HPE needs to win additional enterprise contracts and sustain a healthy enough offering in storage and rack mounts to beat out competitors. The company's exposure to China via its Tsinghua partnership has been helpful, and it does mitigate some of my growth concerns. But, the company needs to demonstrate much more visible evidence that a long-term revenue CAGR in excess of 5% is attainable.
In the end, HPE is interesting and I still prefer HPQ, but the commentary pertaining to growth and capital returns should be weighed in the minds of investors.