Buy the Banks As Nonresidential Construction is Picking Up Momentum
Momentum is starting to pick back up in the case of nonresidential construction as a recent forecast from Morgan Stanley points to a minor drop-off in the first half of the year, followed by continuation into the second half in-line with historical trends. The nonresidential construction part of the market is exhibiting faster signs of recovery when compared to housing in the United States, as nonresidential permits is set to exceed the 2007 highs in 2017 roughly 10 years after the economic crash.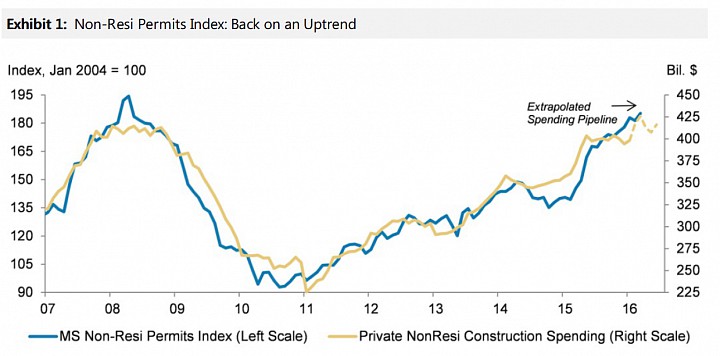 Source: Morgan Stanley
While steel is one way to play the continued recovery in nonresidential construction, I tend to prefer the big consumer banks as many are repositioning portfolios for commercial loans for midmarket construction. Companies like JPMorgan Chase and Wells Fargo seem better positioned to ride a wave of nonresidential construction that exceeds the prior cycle high.
Whereas conventional steel companies could benefit, they're a little too cyclical and margins will remain heavily exposed to price competition. As such, banks remain a compelling alternative as margin expansion, cyclical growth drivers, and diversified revenue pools limit risk/provide upside in the back half of the current economic cycle.