AMD Will Reach $4 and Here's Why

AMD is set to be a big beneficiary of a licensing windfall, assuming Nvidia isn't able to match AMD's offer to Intel.
At least according to a recent report from PC World:
Currently, Intel is under a $1.5 billion licensing agreement with Nvidia, which the two companies signed in 2011. At the time, the two companies had spent years fighting each other in courts over patent licensing, and the agreement put all that litigation to rest. Intel's Nvidia deal is set to expire on March 17, 2017, and a recent report by Bloomberg claimed that Intel is now looking to cut a deal with AMD instead.
The biggest winner?
... AMD, and here's why:
Assuming AMD can secure a deal for $100 million to $150 million it would turn the company FCF positive as the company averaged a $54.3 million FCF loss over the past five-years.
The company has aggressively cut cost in response to declining revenue, but these patterns may finally reverse assuming AMD is able to release compelling products in its upcoming Polaris Graphics architecture.
Currently, AMD has $2 billion in debt with maturities ranging from 2017 to 2025 (last time I checked). The company needs to reach FCF positive if it wants to improve its credit rating from S&P, Fitch, Moody's.
Assuming AMD is able to return to FCF positive through a combination of licensing revenue growth and GPU momentum, the company can return to investment grade, which then lowers the cost of capital for future debt issuances.
Balance sheet weakness has been a sore spot for AMD, and it's likely that the company will need to issue more bonds to pay prior bonds at maturity. However, mitigating cash burn will reduce solvency risk considerably, which is why the possibility of an AMD & Intel deal has meaningful implications for AMD shareholders.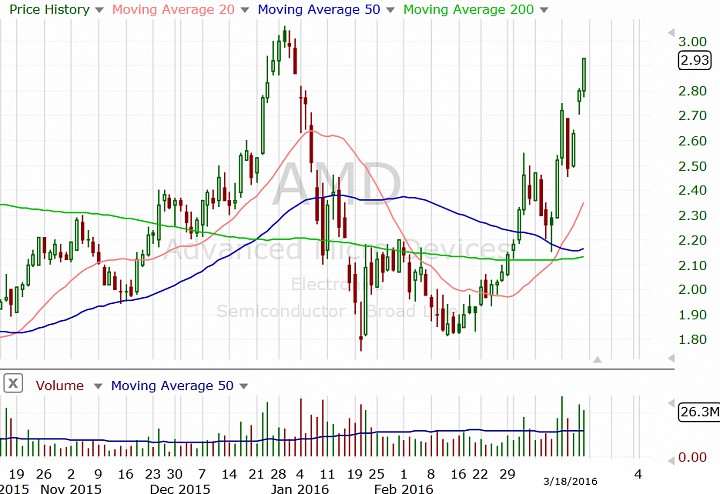 Source: Freestockcharts
The stock has moved considerably higher on these reports and it's no surprise. The company is in a relatively solid position to execute on a turnaround assuming they're able to follow on a series of small successes. Furthermore, high-end PC gaming is rapidly growing, which is why TAM expansion is a key differentiator to AMD as opposed to other value plays. 
Assuming market growth for PC gaming continues, AMD is solidly positioned in the $300 to $500 GPU category where it's able to compete with Nvidia on even footing in terms of PC performance benchmarks. This pricing category is the sweet spot, and it's where AMD can expect to incrementally improve its market share, which could swing revenue estimates by a couple hundred million assuming an incremental 1 million additional $300 GPUs are sold in a given year. For a company that reported $4 billion in revenue, the incremental growth of GPUs is a huge needle mover on top line results. As such, I'm starting to get really aggressive here.

I could see the stock moving up to $4 on heightened investment sentiment alone. Investors/traders could pile in and make a pretty decent amount in a relatively short period of time.