Merrill Lynch March Fund Manager Survey Highlights
Bank of America Merrill Lynch released their latest Fund Manager Survey, and for the most part, the data points more or less confirmed what many on the buyside were thinking.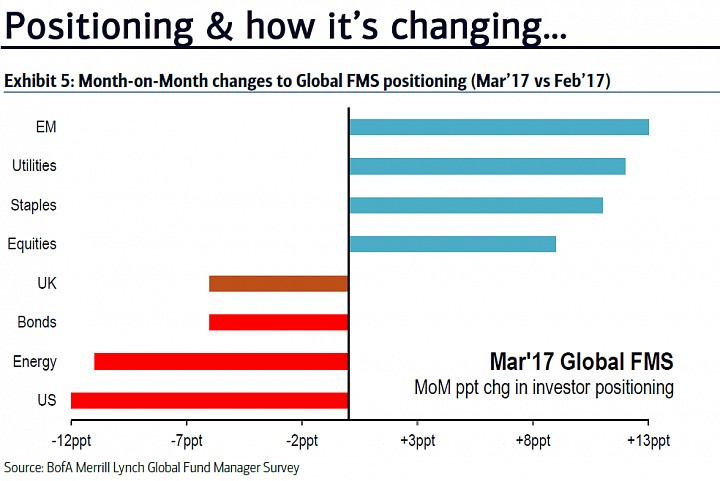 Investors are moving allocations back into the emerging markets. The m/m improvement in emerging markets, and defensive sectors was somewhat surprising. But, not really. The U.S. equity trade was fairly overcrowded to begin with, and with large cap multiples expanding without upwards revisions to guidance/estimates, the data is pointing towards some sort of market correction in the immediate 3-months.

The dollar trade, banks, and short government bonds were the most overcrowded trades according to the survey. Investors were betting on a rate hike, with analysts on the sell-side mentioning that rate hikes remaining highly probable over the next 12-months. However, the recent Fed meeting more or less reaffirmed their modeled growth on GDP, inflation and employment. Hence, the Fed isn't in any hurry to raise rates, and border tax adjustment lost momentum. Hence, investors are moving allocations away from dollar, banks and treasury shorts.
Not really surprised, but there's more.

Investment managers really aren't all that optimistic on sustained GDP growth in the current interest rate tightening cycle w/many anticipating a peak in fed fund rates of appx. 2% to 3%l the. This is because real GDP is not likely to accelerate absent of meaningful fiscal policy reform, i.e. lower taxes paired with stimulus spending. Hence, stagflation trade remains status quo, and until the U.S. economy shows material patterns of acceleration, the flexibility of Fed interest rate policy remains limited.