Buy Netflix & Amazon as Cord Cutting is Accelerating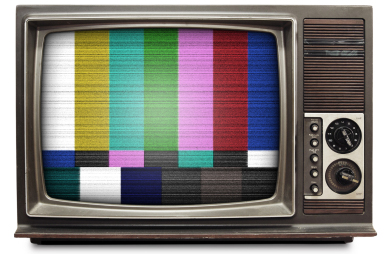 Things are starting to get more hectic in the TV space, and now executives within the media space are acknowledging the risk of cord cutting among the younger and lower household income demographic. A decent chunk of the population is now taking the stance that they'd prefer to consume content online. How, this affects television broadcast is up for debate, but there are still obvious winners (Netflix and Amazon) in this transition.
The large broadcast stations, i.e. ABC, FOX, NBC and CBS are best positioned to whether this storm, because they provide the highest value content to cable subscriptions via original programming, local and national news, and sports broadcasts. These four companies will likely transition successfully despite the challenges of pricing and competition for TV ratings. These firms also license content to Netflix and Amazon, so a simple transition to online would be through more expensive licensing deals. Netflix and Amazon will likely navigate this environment most successfully, as the loss of TV subscribers has also translated to a boost in online viewing.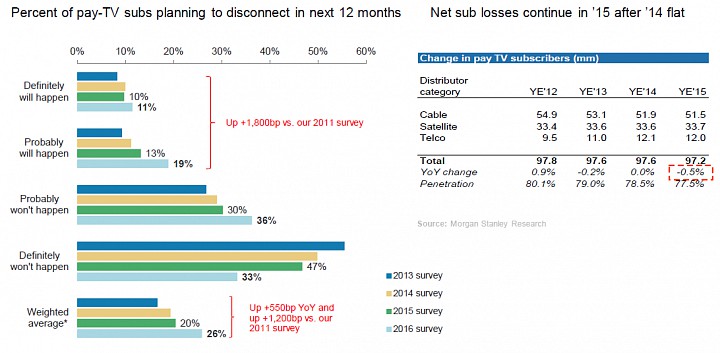 Source: Morgan Stanley
Furthermore, Morgan Stanley released in its Online Video Streaming Survey, "26% of pay-TV subscribers stated they plan to disconnect their pay-TV service in the next 12 months (based on our weighted average methodology), up +550bp vs. last year." If survey data is a leading indicator that means that TV subscriptions will decline more abruptly than they did in 2015. Subscriber figures declined by .5% in 2015 and remained flat in the prior year to that. However, the relative dissatisfaction rates have increased quite significantly, but primarily among telco and cable providers.
I.E. if these trends accelerate you would probably avoid names like Comcast, Time Warner Cable, Verizon and AT&T over the near term, as being a distributor of channels hasn't been a hot commodity lately. Satellite providers like Dish, Century Link and DirecTV are holding up a bit better. But, I would not be surprised if those companies get caught by the cord cutting bug too.