Alibaba Climbing the Wall of Worry: I'm Raising it To High Conviction Buy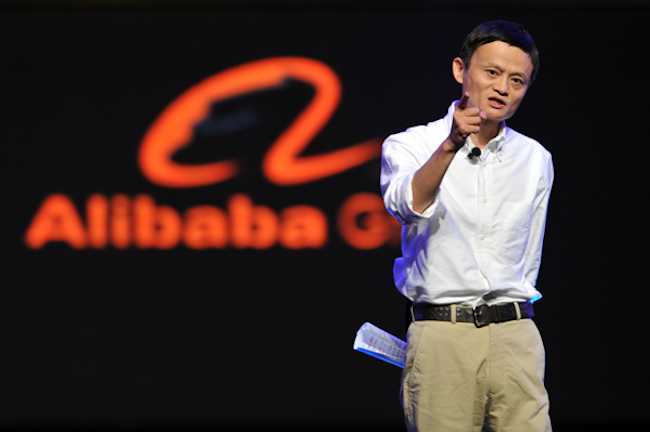 The guys over at Oppenheimer Co. demonstrated tons of conviction inside of the Alibaba trade. Now keep in mind the stock has been mired in difficulty following the sale of Alibaba holdings over at Soft Bank and the investigative probes by the SEC. Despite these recent challenges and the potential for more bad news down the road, I believe that the underlying risks associated with these events are overstated, and the core fundamentals of the business paired with the depressed valuation still make the stock relatively attractive for both growth/value oriented investors. Furthermore, I don't anticipate substantial changes in its marketplace ecosystem despite ongoing efforts to ward off "brushing" i.e. fake purchases by merchants to boost rankings for various product categories. Despite these activities to tackle the challenge of somewhat fraudulent purchases, the GMV should continue to tick at a fairly respectable pace.
Oppenheimer Co. just assigned a price target of $115 on the company, and I can go along with the logic here, because again the risks are overstated.
Here's what Jason Helfstein from Oppenheimer Co. had to say in response to the earnings announcement:
Raising price target from $110 to $115 on extraordinary F1Q:17 results, with GMV/ revenue/EBITDA exceeding consensus by 2%/7%/13%. We are encouraged by BABA's progress in monetization, globalization and transparency. Its Prime-like ecosystem and growth in Cloud computing should support a multi-year growth story. Improved rural & category expansion shows continuation of scalable model vs. largest competitor, who faced growth/profitability issues. In addition, Lazada/AliExpress and AliCloud all have global potential.
I believe the stock will continue to rally around the momentum of earnings with institutional investors willing to soak up the excess supply from the recent Soft Bank sale totaling $7.9 billion. In other words despite the market float issue, there's not a whole lot to criticize with Alibaba.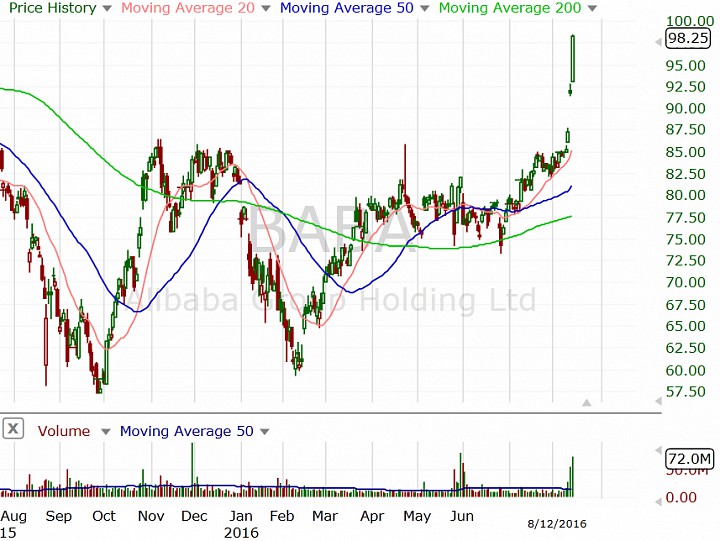 Source: Freestockcharts
The company is in a better position financially and I've been pushing the stock for quite a while now. Even with it trading at around $100, I could easily see momentum taking it above $120 given enough time. The stock trades at an extreme discount relative to its peer comparison group. Furthermore, Alibaba unlike Amazon has demonstrated a pattern of healthy profitability similar to eBay. Except the growth in Alibaba's business is mostly driven by the healthy consumption of Chinese consumers, which we've witnessed some meaningful acceleration in the prior quarter.
While there are potentially shortcomings on the macro front in China, the impact from reduced consumption isn't really being felt by Alibaba as it's rapidly expanding ecosystem of B2C and B2B transactions paired with new growth initiatives in cloud, logistics, and adjacent e-commerce portals like Lazada helps address concerns over revenue mix over the next couple years.
I'm re-rating to high-conviction buy. I will provide a more formal fundamental model in future weeks.