Donald Trump Takes on Amazon, Gene Munster Calls Out Trump's claims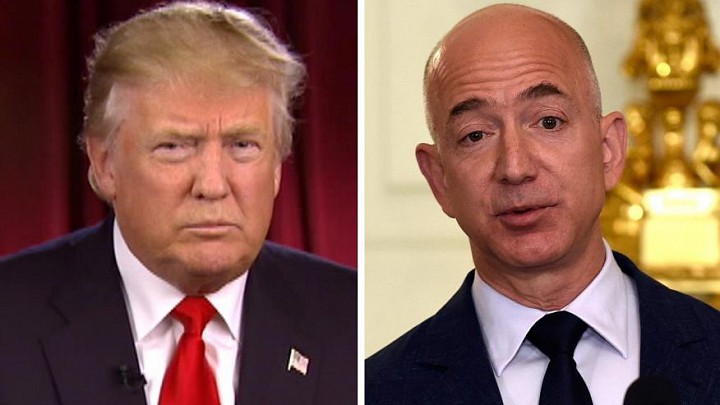 Okay, so even more interesting Amazon-related news, apparently Presidential hopeful, Donald Trump made some snide remarks with regards to Bezos as using the Washington Post as a political tool to sway public opinion. Now, this is starting to spark a battle of the billionaires, but more appropriately, I'm sure Bezos is going to laugh boisterously at this one.
Here's what Trump said on Hannity i.e. Fox News:
"Amazon is getting away with murder tax wise. He's using The Washington Post for power so that the politicians in Washington don't tax Amazon like they should be taxed... he's worried about me... he (Bezos) thinks I would go after him for antitrust because he's got a huge antitrust problem because he's controlling so much."
But, to be fair the reason why Trump is being so nasty with regards to Bezos-owned Washington Post is because the reporters there are working on a deep investigation into Trump's personal life, real estate dealings, and etc. In other words, Bezos whether intentionally or not, is coming after Trump hard, as the Post dedicated 20 reporters to go after the Republican Nominee. That being the case, Trump is now directly confronting Bezos, which prompts potential risks assuming Trump becomes the next United States president.
But, wait a second is Trump actually capable of hiking taxes or going after Amazon for its supposed monopoly like status?
No way, says Piper Jaffray analyst Gene Munster:
Trump's comments may refer to either sales tax collection or corporate tax structures that shield Amazon from certain tax liabilities. In regards to sales tax collection, Amazon already collects sales tax in 28 states in the US, accounting for ~85% of the population – the remaining states are governed by laws not mandating that marketplaces collect sales tax on behalf of sellers on their platforms and/or are still governed under the 1992 Quill Corp v. North Dakota Supreme Court ruling, which set a precedent that states may not impose or enforce sales tax collection requirements for businesses that have no physical location in that state. In regards to corporate tax policy, we continue to believe that Amazon's international tax structure, while under continued scrutiny and subject to change by international policy changes, is legal.
So, Trump is just shooting back at his critics, especially the ones with some political power. This has been Trump's mantra since the very beginning. Stir up a beehive, name drop other rich powerful people, and then spin some sort of narrative of how Trump is going to take on the GOP establishment or other wealthy Americans in some Robin Hood narrative. If anything, it's okay to discount Trump for some of his big claims. Like any politician, Trump is phenomenal at showmanship, but eventually, we'll soon recognize that Trump won't be able to build his big wall or take down supposed monopolies as easily. Perhaps, expecting Trump to behave like every other politician before getting elected into office is the most rational thing to do. Because like every other politican, we all know they won't deliver on even half of their political campaign promises.