Mattel Gets Hit With Good NPD News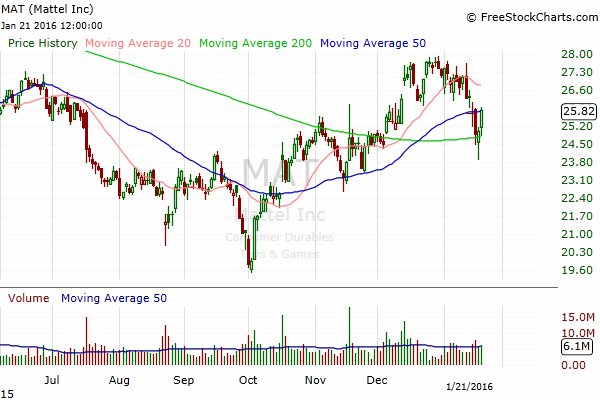 Source: Freestockcharts
It seems like things are turning up for Mattel shareholders, and I'm sure Mattew Waterman will be thrilled to hear about this.
According to OppenheimerCo:
We believe there have been encouraging sales trends in Mattel products at retail. Moreover, in NPD's release, Mattel had four of the top ten best - selling products in dollars in the US. An encouraging sign to us is the 5.7% growth in infant, toddler and preschool toys, according to NPD. This category has been a laggard for a couple of years, and to see positive momentum in the category is reassuring. In regard to Star Wars, though Mattel had a smaller slice than other major toy manufacturers, we believe its products have sold well. Based on channel checks, we expect that MAT will be able to show constant-currency growth in shipments of both Barbie and Fisher - Price, its two most important product brands (and which together comprise over 40% of total sales.
The NPD figure seems to be the primary catalyst for the stock moving higher on today's session. I anticipate further momentum in the stock price despite the resistance from the 50-day Moving Average. I anticipate that the stock will re-test the $28.00 level over the next couple weeks, which implies 8.4% upside. If you hold onto the name for a year, you'll also collect a 6.08% dividend. A double-win, best of luck to Mattel shareholders!