S&P 500 Will Reach or Exceed 2,221 This Year
Bank of America released a pretty interesting report when pertaining to equity flows. In fact, data is starting to suggest the equity flows between U.S., Europe and Asia could be inflecting. Furthermore, emerging markets are struggling, as we had witnessed with Chinese melt down and broad currency volatility. The United States struggled the most with equity outflows, as many had shifted asset allocation to fixed income and cash. But, more importantly trends in bond inflow also indicates that people who were sitting on the sidelines in cash have finally gotten back into the markets in the form of fixed income or securities.

Source: Bank of America Merrill Lynch Research
European equities experienced $4 billion in outflows this week and has experienced outflows for 6 straight weeks. Japanese equities had $400 million in outflows, which isn't too bad, but indicates some hesitancy among asset managers despite the BOJ's move to negative interest rate policy below the zero lower bound. The emerging market equities experienced a very modest uptick of $1.4 billion in inflows for the week, and has sustained this momentum since last week. The United States had $3.8 billion in equity inflows for the second straight week.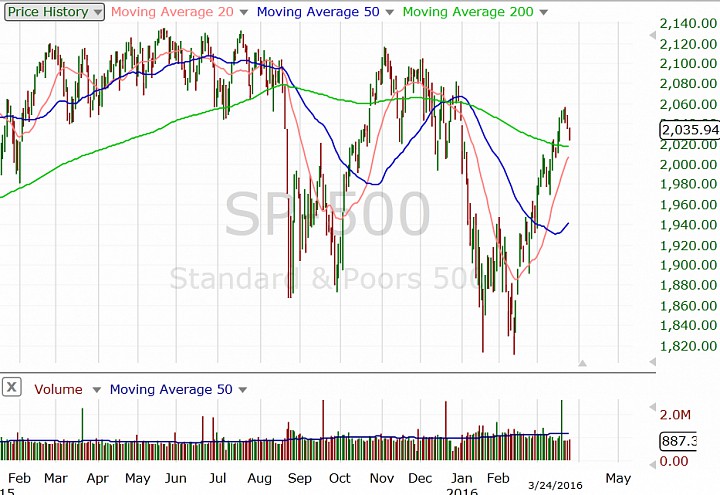 Source: Freestockcharts
The S&P 500 has sustained momentum in the past couple months due to recovering sentiment, and equity inflows. I continue to forecast 2,221 for the S&P 500 this year, and anticipate momentum from inflows and better earnings to drive the index higher. Near-term catalyst to aggregate S&P 500 earnings involve a change in accounting for pension benefit obligations. The more dovish stance by the Fed and the reluctance to raise rates despite CPI momentum has investors piling back into stocks. As such, I anticipate stock to sustain the recent momentum to much higher levels for the duration of the year.