Netflix's International Efforts Is What Keeps the Stock Grounded
For the most part, Netflix had a fairly impressive quarter when pertaining to its international subscriber guide, and while I was calling for a higher international growth rate I believe Netflix got close enough to a ballpark beat to meaningfully drive the stock price higher on the Wednesday trading session following the announcement of earnings Tuesday evening.
Furthermore, the company seems to be in a fairly solid position to drive meaningful margin improvement to its contribution margin on international when based on the company's guidance therefore investors should anticipate both a relatively robust growth rate in conjunction with better profitability as we close out the year with negative contribution margin peaking at -19.2%. The company increased its pricing on subscription plans by 4% to 5% internationally, which was driven by a mix-shift of subscribers rolling off of the trial period. Now, obviously the free trial period is a necessary component to sustaining subscriber additions, but I'm going to take another stab at forecasting international sales.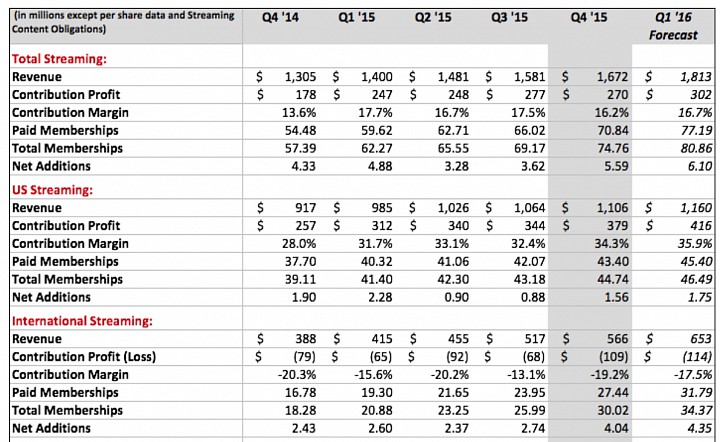 Source: Netflix
I'm revising my estimates on international subscribers from 54.31 million to 51.41 million. Needless to say the incremental subscriber additions will be monetized for half of the year on average, which translates into $3.068 billion in revenue when based off of the current ARPU of $6.28. At this specific point, I anticipate the company's revenue growth to accelerate due to the rapid expansion of the total addressable market, which will continue to unfold over the course of FY'16.
The company mentions that the current TAM by 190 million from 360 million, which resulted in a total TAM of 550 million. The company may eventually expand into India and China, but I anticipate the market expansion efforts will slow in 2016 before re-accelerating sometime between 2016 and 2020. Of course every company wants to expand into those two major remaining markets, but perhaps regulatory hurdles are the biggest obstacle for the time being.
But, to conclude investors can conclude that Netflix had a phenomenal quarter and I can imagine NFLX finding a base at these low prices before moving higher into the $120s and beyond.