Trip Advisor: Value Recovery or Value Trap?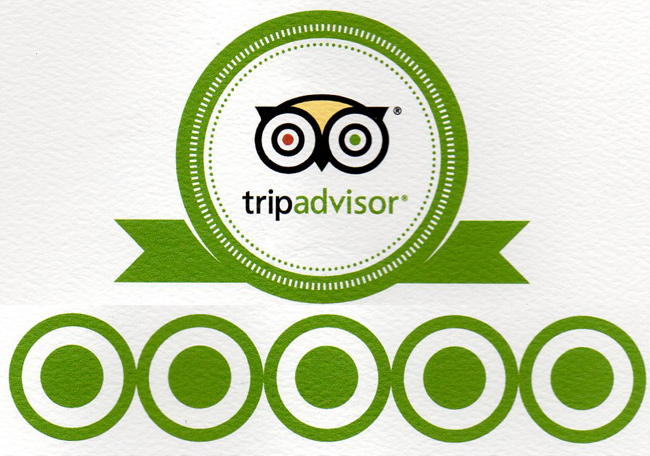 Trip Advisor has entered into the land of "the untouchable stock," as the company has continued to demonstrate lackluster financial performance when compared to some of its more well-esteemed OTA (online travel agency) peers.
The proverbial, "wouldn't touch that with a 50-foot pole" mentality is starting to sink in, and even the value recovery thesis centers heavily on heightened monetization of pre-existing users, as the MAU trends are starting to show serious deceleration, as the q/q MAU growth went from 20% to 16% in Q2'16.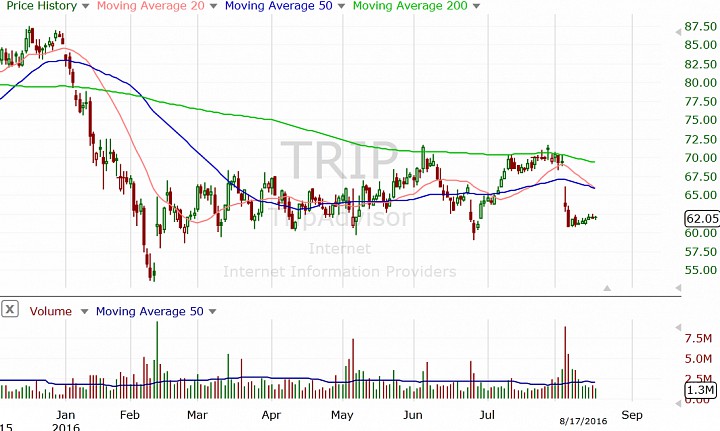 Source: Freestockcharts
However, there's at least a silver lining, or some glimmer of hope for a stock that has completely capitulated following the announcement of earnings.
The stock is now cheap enough to consider owning.
Value recovery can be sustained assuming Instant Booking translates into higher ARPU (average revenue per user).
There are realistic opportunities to utilize cost levers.
That being the case, I'm not saying that the prevailing skepticism by the buy side is completely wrong.
There's a good reason to be cautious on the name given deceleration in operating results, difficulty in predicting earnings/sales ramp, and declining investor sentiment.
However, the guys (Michael Olson and Samuel Kemp) at PiperJaffray mentioned:
It is true that consumer actions are hard to alter following a long period of usage that's not consistent with the new desired outcome. We believe, however, that as much as 50% of online travel bookings follow the path of using TripAdvisor as a research and pricing query tool during the process. Given this high level of usage, we expect the improved functionality offered by Instant Book (especially on mobile) will drive a small portion of users to complete a booking on the site; small changes in user monetization have a significant impact on overall company EBITDA, as we believe only approx. 5% of hotel shoppers today are monetized by TripAdvisor.
While the core fundamental metrics are still weak, I come away with the impression that the stock isn't likely to trade at trough like valuations for much longer given the degree of negativity by investors. In other words, it's when management gets confronted with horrendous quarterly earnings when the directive up top is to start satisfying shareholders with some near-term maneuvering that has near-term accretive earnings impact.
The high utilization of marketing spend is what's predominantly the driver behind falling operating margins in the past couple quarters. The management team is heavily committed to the on-going roll out of Instant Booking despite the near-term headwinds on earnings. While Instant Booking is intended to generate higher conversions and provide accurate attribution of marketing results similar to the other OTAs, it's worth noting that the website is primarily viewed as a Yelp for online travel. The sheer quality of consumer feedback on travel destinations, hotels and restaurants is superior to competing sites.
However, the downside to a cost per action campaign on TripAdvisor is the near-term competitive headwinds as there's sustained pressure by the other OTAs to compete on the basis of better pricing and sustained room inventory growth. Furthermore, there are better ecosystem tie-ins at both Priceline and Expedia.
Notwithstanding those perception differences, the shift in consumer behavior towards using TripAdvisor as an extended application for both bookings and information gathering could have promising implications for shareholders. The multiple levers by which TripAdvisor can utilize to grow revenue provide some upside, but the outcome associated with these investments have yet to materialize into meaningful revenue/earnings ramp.
However, the company seems relatively attractive in valuation when compared to its 52-week high, but the stock is also richly valued on standard value measures. The stock trades at 65.8x earnings, and it's hard to imagine the stock turning into a value recovery trade unless operating metrics and revenue perform above historical trends.
That being the case, it's also worth noting that US travel has most likely peaked, as the U.S. Hotel industry has reached $140 billion with growth likely to moderate at low single digits for the foreseeable years.
The OTAs already take incredible share of total aggregate bookings, and growth in ARR (average room rates) or occupancy rates is already limited. As such, the Priceline and Expedia investor narrative is supported by product adjacencies like restaurant bookings or international expansion. On the other hand, TripAdvisor has yet to saturate the higher value segments of the market through direct action advertising 
Therefore TripAdvisor's growth potential isn't as heavily centered on broad market fundamentals, but rather management execution.
However, there's a lot of debate over the quality of management, as the quality of decision making is comparable to recent examples at Twitter, Intel and Tesla Motors. I.e. it's hard to rationalize why you would want to invest into the name when you have no idea what the next year or quarter will look like.
Ever get kicked by a horse? TRIP's quarterly results have the potential to kick your portfolio's ass like a horse if things go south. 
The stock isn't necessarily a compelling short unless there's substantial conviction behind near-term earnings miss, which seems less likely after coming out of a brutal quarter. It's likely that the CFO will start looking at cost efficiency rather than over-expansion of advertising spend.
I'm anticipating a strategy towards heightened awareness among the pre-existing user base, and promotional activity will likely lead to heightened usage of the company's booking service.
In other words, the plus and minuses aside. I think the risk to reward now seems more favorable to bulls. However, the stock could plunge at any moment's notice, so maintaining high exposure will also introduce heightened volatility.
I'm initiating my initial recommendation on TripAdvisor at buy. I would need to do further due diligence to arrive at a price target.