Netflix Versus Amazon Was a Dumb Myth All Along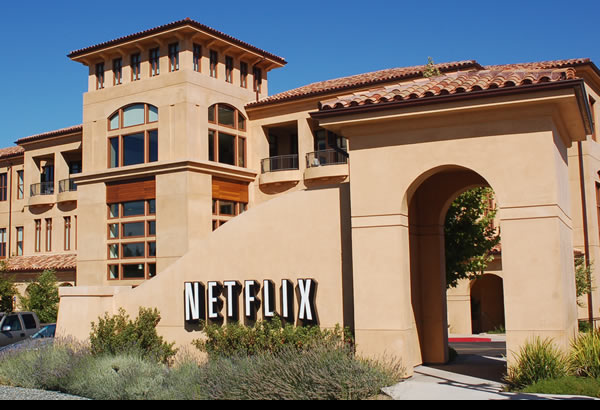 Netflix continues to pull ahead of competitors in the SVOD space. I view Netflix best in class despite less than optimal operating metrics and weak balance sheet characteristics following the roll out of the service to international markets. Recent survey results point to continued penetration of Netflix when compared to peers.
Here's what was mentioned in Morgan Stanley's report today:
Netflix remains the leading online video platform for TV/film content in the US, with 40% of all respondents reporting usage, up 170bp compared to the prior year's survey. Reported usage of Amazon Instant Video also increased to 22% of respondents, up 280bp YoY, coming in at third place after YouTube. For Netflix, 45% of users cited original programming as a reason to subscribe (up from 34% in 2014), and nearly 30% of all respondents cite Netflix as the best source of original programming among SVOD and premium TV networks. The greatest resistance for non-Netflix subscribers comes from older demos, which set-top integration could ease in our view.
Clearly, Prime membership is geared more for online retail transactions as opposed to the extra Instant Video service. It's not a standalone business, but rather a cost center for Amazon to retain its current subscriber base. While investment into content keeps Amazon Instant Video relevant, I would be cautious of those who believe Amazon is directly competing with Netflix. The two companies seem to co-exist just fine, as recent survey data shows.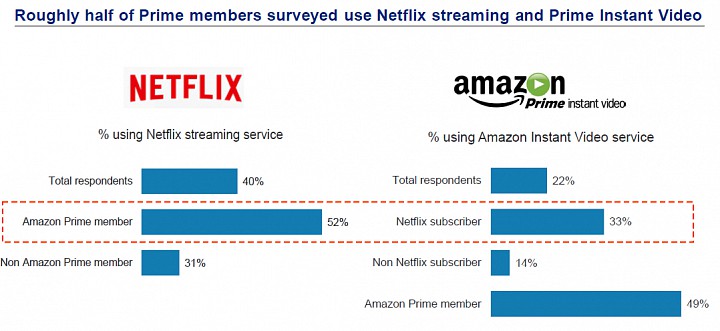 Source: Morgan Stanley
As you can tell, 52% of Netflix users are also Amazon Prime members. Furthermore, only 49% of Amazon Prime members use Instant Video. In other words, before arguing market share erosion in the case of Netflix and Amazon, it's worth noting that Amazon's video service hasn't even fully penetrated into its current subscriber base. Either Amazon is struggling with marketing the content to its current subscriber base, or the lack of a comprehensive content library resulted in limited adoption of the service among the existing Prime subscriber base.
As such, investors can safely ignore the Netflix versus Amazon hype. Many own both services and pay the subscription fees. I think a scenario of online streaming replacing today's TV channels remains the most likely scenario, but it will be very gradual as many in the older demographics are loyal TV viewers.