Home Depot Worth $142 Per Share?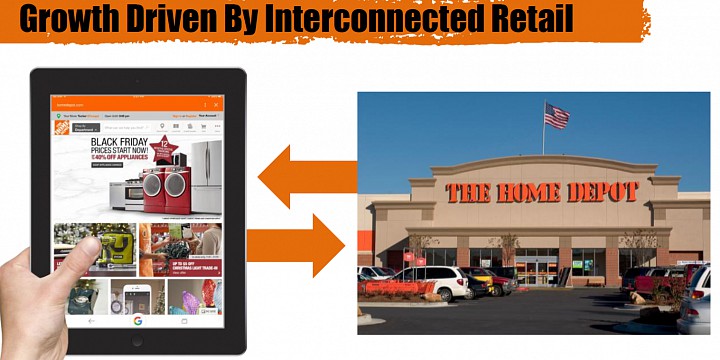 Home Depot remains one of the better positioned companies among retail hard lines and while it took a while before I got sold on the investment thesis, I believe the company has a sustainable path to mid to low-teen EPS growth over the next three years.
Furthermore, the company doesn't plan on expanding outside of the United State as they will maintain the large store format, and won't waste capital on acquisitions. These three factors make the company extremely predictable as top line growth will mostly come from same store sales growth with approximately 15 to 21 store additions over the next three-years.
For a retail chain the size of Home Depot the incremental store account organically produces an additional 70 basis percentage points to top line sales per year. So, everything comes down to the broader macro dynamics of home improvement and home sales as it will determine the SSS (same store sales) growth rate.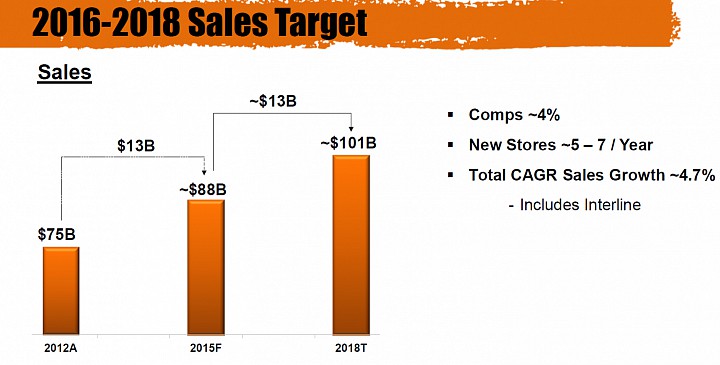 Source: Home Depot
The company is projecting that it can improve its operating margin from 13.2% to 14.5% by 2018, and may gain another share buyback authorization to expand the current $11 billion to $23 billion. The company is projecting 4.7% CAGR on sales through 2018, which is pretty conservative.
At least according to Deutsche Bank research, which was released on Monday:
We are increasing our estimates, now assuming 2016 and 2017 comps of 4.5% and 4.0%, up from 4.0% and 3.5%. Consensus is 4.5% and 4.3%. Our EPS estimates go to $6.16 and $6.96, up from $6.14 and $6.86. This just about in line with consensus of $6.20 and $7.09. Longer term, we see a very visible and consistent earnings algorithm that should generate about 13% in annual EPS growth a year, using 2015 as the base year and modeling out to 2020. This is above our estimated hardline average of 11%-12%.
Deutsche Bank is actually being fairly aggressive here as they anticipate comparative store sales growth of 4.5% in FY'16, which is 50 basis points above the targeted estimate by Home Depot. Of course, the incremental upside to Home Depot sales comes from the improving macro, consistent SSS growth, mobile app, improving customer sentiment, and high customer sat scores. Furthermore, the retailer generally tends to be more price competitive than its nearest competitor Lowe's. As such, I can imagine the company sustaining its competitive moat while also sustaining margin expansion due to efficiency gains through better supply chain management and higher ROI on marketing dollars. Perhaps the company will also surprise on sales as well. But, to remain somewhat conservative, I anticipate results to be in-line, but arrive at a slightly higher multiple than the consensus average.
That being the case, Deutsche Bank offer a $135 price target, which implies that the company should have 10.9% additional upside. I believe the company is worth $142.69 and is good for 16.7% additional upside with very minimal risk. As such, I initiate a high conviction buy.