Here's Why Intel Collapsed in the After Hours
So here's what happened:
Buy side expectations for sales were likely low mid-teen growth, instead Intel's outlook indicated mid to high single digit revenue growth. 
Ironically, people on the buy side think alike, and for the stock to materially move higher Intel needed to guide low-single digit CCG revenue growth for FY'16. Instead Intel cited China demand headwinds impacting PC sales, ugh.
Intel did a lot better than the sell side consensus for both its outlook and Q4'15 report. The expectation among buy side was way higher than the sell side, which was why the beat and above consensus outlook wasn't enough to lift the stock price higher.
After inputting some of Intel's outlook, I arrive at a more modest price target and EPS target.
As such, I'm lowering my PT and EPS estimate.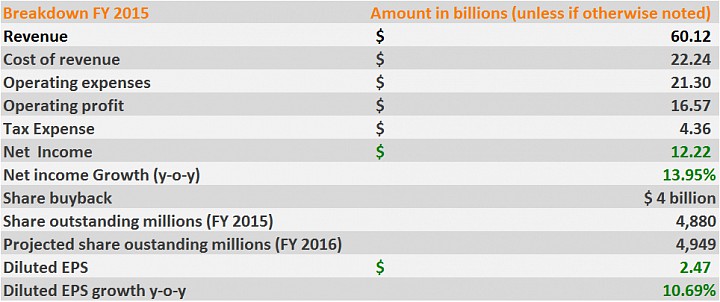 Source: Alex Cho
Okay, after hearing from Intel, I'm readjusting to the high-end of their outlook range. I initially thought there was a distinct possibility that the company could provide outlook above the high-end of the range and unfortunately, the outlook was pretty underwhelming as CCG is likely to report flat year-over-year comps in FY'16. Therefore, I adjust my figures lower to reflect that impact.
Guess we know whose heads were up in the clouds right? *Coughs* the buy side (me and everyone else).
I readjust my price target from $42.16 to $40.67 (approximately 3.53% lower), the market has already priced in the impact given the 4.7% drop in the after hours. I anticipate the multiple to recover through 2016, and EPS to come in at $2.47 for FY'16, which is roughly $.10 above the current consensus. While there could be added upside to my model, I'm weighing Intel's precautionary stance on sales and margins more heavily. Sure, they could have low-balled their figures. But, we know China could prove difficult, volume ramp in storage and transition to 10nm will also impact gross margins negatively. So, when combining all of these factors, revenue won't be as great and margins won't be as good. Nothing more here, I guess we have to move on.
Also, my figure refers to non-GAAP diluted EPS. I anticipate the sell side to go with the non-GAAP figures to normalize current year to prior year comps. Acquisition related charges are often excluded in many sell side/buy side financial models.
Furthermore, I remain upbeat on the stock. The stock already reflects the slight weakness in outlook. So if you buy tomorrow you're going to make up the losses through the cheaper price as opposed to further market appreciation. I reiterate high conviction buy.